Sheen Magazine January February 2018 Cover Feature: The Year of Niecy Nash
---
The Year of Niecy Nash
Niecy Nash is best known for her work on Reno 911, Guess Who, Claws and G-Force. The comedian, model, actress and producer swept into James Hickey Studio with full force charisma and genuine likeability. Booked by Sheen Magazine for it's January cover story, "The Year of Niecy Nash," the entire crew was on point. Also, Niecy gives the best hugs. No wonder the woman is kicking ass. Check out an excerpt of the article below: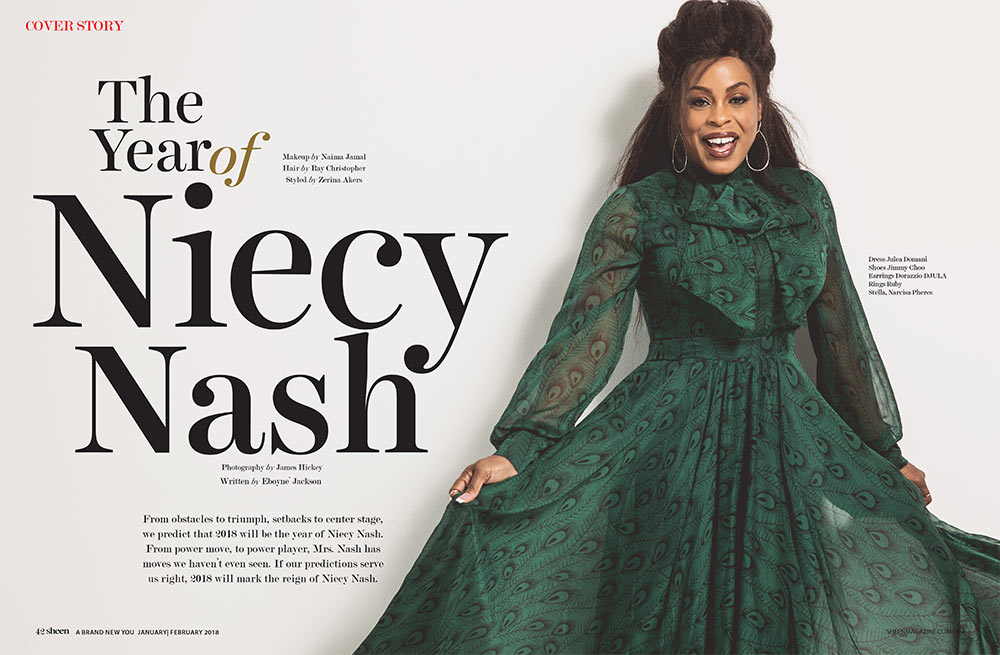 By Eboyne' Jackson, for Sheen Magazine
From obstacles to triumph, setbacks to center stage, we predict that 2018 will be the year of Niecy Nash. From power move, to power player, Mrs. Nash has moves we haven't even seen. If our predictions serve us right, 2018 will mark the reign of Niecy Nash.
If there's one thing that Niecy Nash wants you to know, it's that she is playing by her own playbook. The hilariously candid actress–notably known for her Style Network show, Clean House, and as the lead of TNT's hit show, Claws, is not only next-level-winning, but on the brink of reigning. As we follow the progression of her extraordinary life, it's most evident that Niecy not only continues to evolve as an actress, but as a wife, pioneer, and bonafide businesswoman. Niecy spoke with Sheen about her next shining star–her up coming induction into the Hollywood Walk of Fame, the mantra to her success, a second chance at love, and her next throne to conquer.
How does it feel for you to be in the company of Viola Davis and Kerry Washington as one of the few women of color playing the lead role of a TV show? Was there any pressure and how do you carry such a torch as an actress?
Well, I think the first thing you do as a leading lady is to be someone that people want to follow. You can't lead in a way that makes people not want to be around you or don't feel encouraged or supported. So one, you be someone that people want to follow into and two, take folks with you. I've never gotten a job or an opportunity without seeing it as a way for somebody else to eat, for somebody else to move their career forward, and for somebody else to get their foot in the game. So you bring folks along with you.
How will you continue to be fruitful in this way? What do you have to do, obviously being vocal; but what else do you have to do to continue being fruitful and keep getting these roles that you really desire?
Number one, the first thing you do is give because the universe responds in kind. First give and that's how you will get. You don't give to receive, but give because it's the right thing to do, and then in turn that's how you get. Number two, you stay in a prepared place for the work. You have to make sure that you know what you're doing when you get there. That's how I purpose to stay the course.
Wonderful. You are amazing in Claws! So tell me Niecy, what do you love the most about playing your character, Desna Simms?
What I love about playing Desna is that she is a black woman of a certain age, and she is completely unapologetic about who she is and how she moves around. You know you don't really get to see black women being sexual on television. She doesn't have children, but I love the way she mothers her community. I feel like that's what she and I have in common. We mother the people we care about– We want to make sure everybody is good and I love that about her.
Read the entire article in the January/February 2018 of Sheen Magazine.
Makeup by Naima Jamal
Hair by Ray Christopher
Styled by Zerina Akers
Photography by James Hickey
---